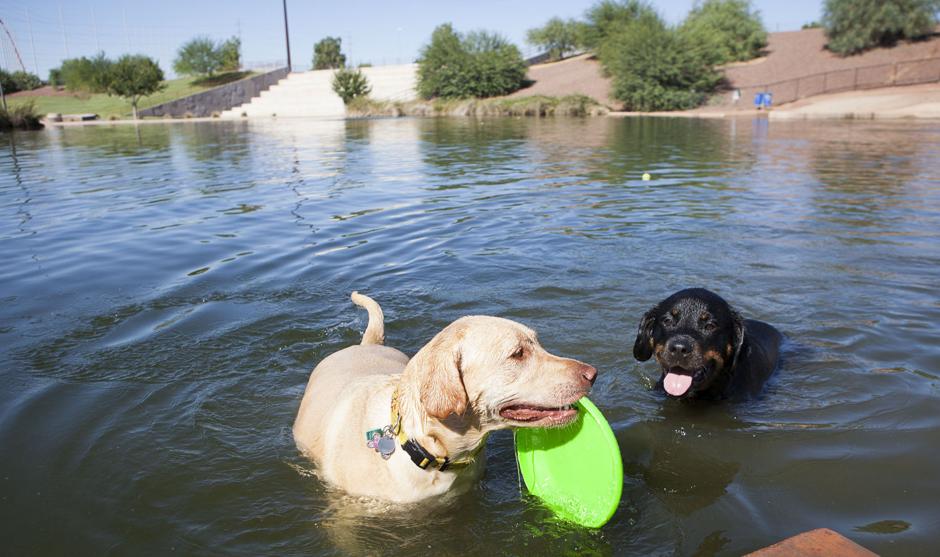 Posted: Tuesday, September 16, 2014 7:00 am
Cosmo Dog Park in Gilbert is undergoing a revamp to make it more amenable for a wide variety of dogs and to keep up with its popularity in the community.
The project, which began with irrigation work in late August, involved splitting the park in half in order to sod the dirt area with grass. Gilbert Parks Manager Rob Giles said the goal is to have at least one half of the facility, which was a large dirt area, open at a time until the town can complete the project that should solve a problem the park has had in the past.
"We've always had difficulty with turf and grass," he said.
The need for the sodding stems from the park's popularity. Although Giles said he didn't have specific numbers to indicate the number of people who use it, he described Cosmo Park — first opened in 2006 — as a "very widely used park."
The goal, Giles added, is to have the side undergoing sodding open for use by the end of October and to start on the other side of it thereafter.
The second aspect of the revamp is an installation of fencing to divide the park into four different areas for dogs. Two of the parcels would serve as areas for regular dogs, one would be of use for smaller dogs and the final plot would be devoted to timid dogs.
"We feel we're reaching out to a broader range of interests from dog owners," he said.
Giles added the town can open up the fencing for special events or to align with peak use times on weekends.
Gilbert Dogs 24/7 owner Stephen Biles said splitting the park in that fashion is a good idea because it makes the environment safer for the dogs. A big dog that is older and more passive, for example, could have trouble coping with a cavalcade of smaller, more energetic canines.
Biles said he visited the park in the early stages of the project and was impressed with what the town is doing, calling it "pretty significant," and he added the park itself is already of a fairly high quality.
"I've seen a lot of dog parks in my time, and I haven't seen one as nice as Cosmo," he said.
Cosmo Dog Park is located at 2502 E. Ray Road. Contact Giles at (480) 503-6284 for more information about the project or to offer feedback about the project.
Contact writer: (480) 898-5647 or emungenast@evtrib.com. Follow him on Twitter at @EricMungenast