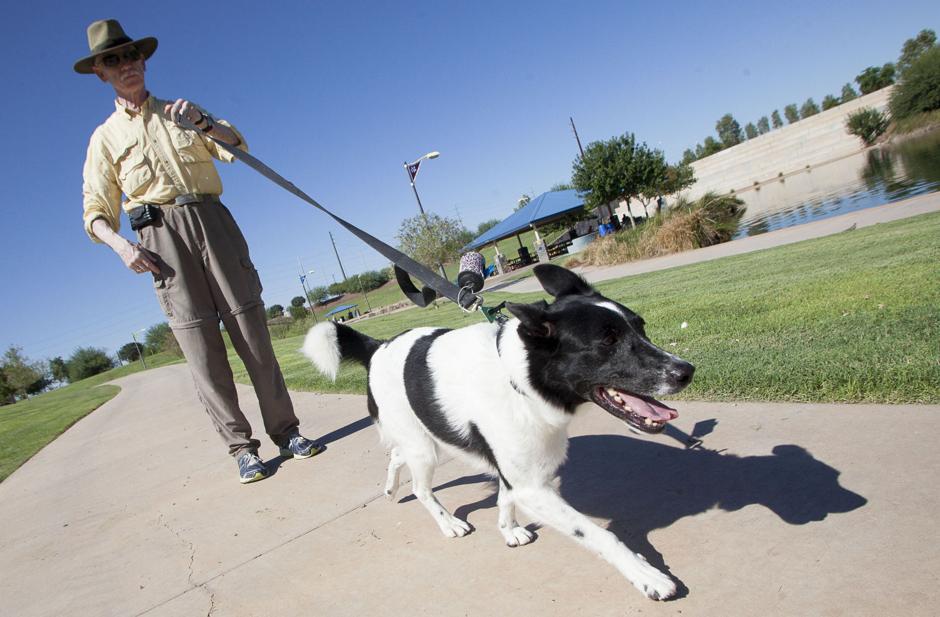 .
Posted East Valley Tribune: Saturday, September 13, 2014 9:30 am
But the citation may not be as much of a problem as the actual law itself.
Everyone knows dogs in public are supposed to be on a leash. It's the law. But few likely know leashes are legally limited to 6 feet in Maricopa County.
Mesa resident Esmée Lafleur is concerned about the issue after she got a citation, with a possible maximum penalty of six months in jail and up to a $2,500 fine, for using a leash that was too long.
Lafleur said she takes her German shepherd to Mesa's Greenfield Park on a regular basis and works with him on a 30-foot line, generally with no complaints. She said she routinely sees dogs on no leash at all, but rarely allows her dog that sort of liberty.
On one previous occasion, the park ranger who ultimately issued the citation approached Lafleur and simply told her to "keep her dog under control" but gave no specific instructions, she said.
"I can't believe (the ranger) cited me," Lafleur said. "It's weird. All of a sudden this guy decides I'm a nuisance to him."
Although ignorance of the law is generally deemed to be no excuse, Lafleur argues the leash law is not a part of the posted rules at the park, and therefore cannot be enforced without a specific warning having been given first.
But that may not be the only problem. Careful examination of the leash laws at the city, county and state levels reveals that, while most cities in the area have a 6-foot leash limit and Maricopa County does as well, the Arizona Revised Statutes appear to only list such a limit for dogs on rabies quarantine. Another section states that all dogs over the age of 3 months must be on a leash, with no length specified.
"They sort of take little pieces out of context," said Mary Kinsley, former chair of the State Bar of Arizona's Animal Law Executive Council, about Maricopa County animal laws. "It makes it difficult."
She pointed out a similar discrepancy dealing with ownership of animals, in which the state statutes and local laws seem to conflict on whether there is an amount of time after which an individual may claim ownership of a lost animal, superseding the rights of the original owner.
That disagreement, however, does not mean that a 6-foot leash law is necessarily a bad thing. Local animal trainer Kama Rueschenberg, of Club Doggie in Queen Creek, said that a 6-foot leash is best for controlling a dog, especially those in training.
"(Owners) need to have enough control over their dog that they are not making a problem," she said.
Rueschenberg also pointed out that most localities recognize the "Canine Good Citizen" certificate and allow for a dog certified as such to be trained on a longer leash, when certain regulations are followed.
Mesa Parks representative Leslie Clark said, in the end, the fine and sentencing for Lafleur will be up to a judge, and not something the Parks Service will comment on. She pointed out that, by her reckoning, Mesa Parks gives out nearly 1,000 warnings for every violation of dogs off their leashes in parks.
"The important parts are really that we are looking for pet owners to be responsible," Clark said. "People don't necessarily understand … to really be responsible that they need to have their dogs under control, on a leash."
Contact writer: (480) 898-6581 or tgodfrey@evtrib.com. Follow him on Twitter at @trevoregodfrey.