Posted by DogMaster on Apr 12th, 2009 | no comments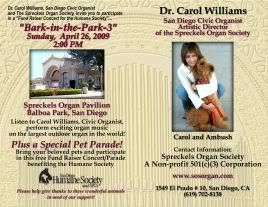 3rd annual celebration benefits the San Diego Humane Society.
Pet friendly music performed on the majestic Spreckels Organ by San Diego Civic Organist Carol Williams followed by a special Pet Parade! For a FREE In-Home dog training demonstration, call 619-818-6462.
This post brought to you by LOSE THE LEASH Dog Training San Diego

Leave a Reply